Mombies - Everything but the Bag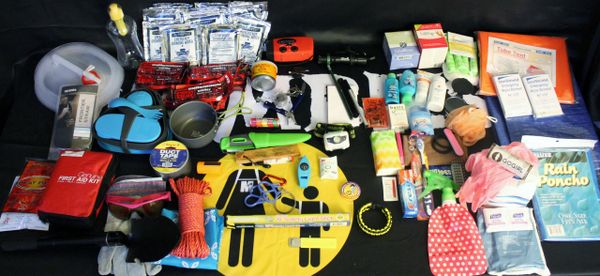 Mombies - Everything but the Bag
Mombies Contents Kit -Everything but the Bag!
Click To Enlarge
All the contents of the Mombies bag without the bag.
Mombies Content Kit comes with 12 emergency water packets and 9 MRE Calorie bars (cherry)
Mombies- Light, Fire and Knife Kit- Swedish Mora Fire Knife with Flint Fire Starter, LED Headlamp with high beam and strobe, Cree Ultrafire Flashlight 240 Lumen Led with high beam and strobe, 20 Hour Candle-In-A-Can, Waterproof matches in case with striking stripe, 12 Hour Emergency Light Stick, Tinder Stick on a Rope.

Mombies Tool Kit- Whistle, Compass, Thermometer, Magnifying Glass, Wire Saw, Work Gloves, Safety Glasses, Paracord Bracelet 50', Multi-Functional Tool with LED light, Foldable Shovel w/ serrated edge, Pik, and compass, Emergency AM/FM crank and solar radio, siren, flashlight and cell phone charger, Corded Ear Plugs, Duct Tape, Carbiner Hook, Box Cutter, 50' Poly Rope, Bandana, and Face Towel.
Mombies- Water Kit- Aquamira Water Filter Straw (30 gal) removes 99.9% of harmful bacteria, Collapsible Water Jug (5 quarts), Bobble Water Filter Bottle.

Mombies- Feminine Hygiene Kit- Reusable pads with 2 inserts 4 tampons and 2 maxi-pads, Feminine Wipes, and Zip Lock Bag.
Mombies- Meal Kit- 5 Piece Eating Kit (includes dish, strainer, cup, small bowl, and spork), Small Cooking Camping Pan, and P-38 Can Opener
Mombies 101 first aid kit - Small Cuts & Burns Kit, Medium Cuts and Scratches Kit, Severe Bleeding & Burns kit, CPR Kit, Protection Kit, and an Instruments Kit, Medical Scissors, Cold Compress, Heat Pack, Eye Wash, Petrolium Jelly, Cotton Balls, Sun Screen, String Relief, Calomine Lotion, Lip Balm, Skin Lotion, Mole Skin, Pill Holder, Acetaminophen, Ibuprofen, Antihistamine, Anti-Diarrheal, Femine Relief, and Electrolyte Tablets. Paper Tablet, Pencil, Pen, and Permanent Marker and LifeSavers Candy.
Mombies Personal Hygiene Kit- Clear Hygiene Bag, Tooth Brush, Tooth Paste, Dental Floss Packet, Spray Bottle, Sewing Kit, Shampoo & Conditioner, Mirror, Razor, Pocket Tissues, Nail File, Microfiber Towel, Lotion, Lip Balm, Hair Ties (2), Deodorant, Hair Brush, Bath Scrubber, Bar Soap, and Baby Powder. (name brand products)
Mombies Shelter Kit- 5x7 Tarp, (2) Survival Blankets, Tube Tent, and Emergency Rain Poncho.
Mombies Toilet Kit- Go-Girl Female Urination Device (Don't take life sitting down), Roll Toilet Paper, Waste Disposal Kit, Hand Sanitizer Wipes, Vinyl non-Latex Gloves, Plastic Zipper Bag.