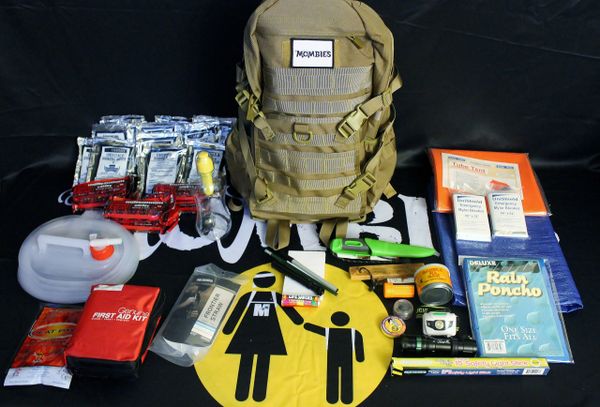 Mombies Essentials Bag
Mombies Essentials Bag as the absolute survival essentials - Fire, Water and Shelter.
Essentials:
Mombies Custom Survival Bag

12 Water Packets and 9 MRE Calorie Bars

Mombies Shelter Kit

Mombies Fire & Light Kit

Mombies Water Kit

Mombies First Aid Kit
Mombies Bag- a high quality custom tactical backpack with multiple compartments and pockets to hold all of your emergency needs. Our bag has the waist and chest straps to distribute the weight properly and has a padded back and padded shoulder straps for comfort, as well as the capability to add a water bladder. Our Mombies Bag comes with 12 emergency water packets and 9 MRE Calorie bars (cherry)
Mombies- Light, Fire and Knife Kit- Swedish Mora Fire Knife with Flint Fire Starter, LED Headlamp with high beam and strobe, Cree Ultrafire Flashlight 240 Lumen Led with high beam and strobe, 20 Hour Candle-In-A-Can, Waterproof matches in case with striking stripe, 12 Hour Emergency Light Stick, Tinder Stick on a Rope.

Mombies- Water Kit- Aquamira Water Filter Straw (30 gal) removes 99.9% of harmful bacteria, Collapsible Water Jug (5 quarts), Bobble Water Filter Bottle.
Mombies Shelter Kit- 5x7 Tarp, (2) Survival Blankets, Tube Tent, and Emergency Rain Poncho.
Mombies 101 first aid kit - Small Cuts & Burns Kit, Medium Cuts and Scratches Kit, Severe Bleeding & Burns kit, CPR Kit, Protection Kit, and an Instruments Kit, Medical Scissors, Cold Compress, Heat Pack, Eye Wash, Petrolium Jelly, Cotton Balls, Sun Screen, String Relief, Calomine Lotion, Lip Balm, Skin Lotion, Mole Skin, Pill Holder, Acetaminophen, Ibuprofen, Antihistamine, Anti-Diarrheal, Femine Relief, and Electrolyte Tablets. Paper Tablet, Pencil, Pen, and Permanent Marker and LifeSavers Candy.