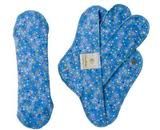 MOMBIES- Glad Rags
Each Day Pad includes:
1 Holder (approximately 9" long and 2 1/2" wide)
2 Inserts
GladRags holders are made out of comfortable cotton flannel fitted with a snap and "envelope" for the inserts. GladRags inserts consist of super-absorbent terry cloth and flannel for maximum protection.
GladRags Day Pads have a unique three part design which allows you to customize the absorbency of the pad according to your flow by choosing one or two inserts. You can even use the holder alone for an ultra-slim liner! This breathable all-cotton pad is so comfortable, you'll wonder how you lived without it. GladRags are made to last for years, so you'll save money and help the environment.
***Color : depends upon availability